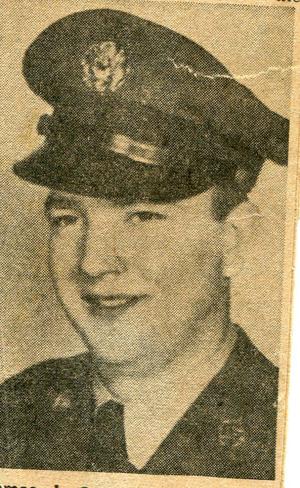 JEFFERSON — After more than six decades, a Jefferson woman's brother, who died in an Alaska military airplane crash during the Korean War, will be laid to rest.
 Airman 2nd Class Thomas Condon was among 52 servicepersons who perished Nov. 22, 1952, when the Douglas C-124 Globemaster in which they were flying crashed into Knik Glacier 50 miles northeast of Anchorage, Alaska.
Condon, 19, was the brother of Marian (Tom) Atkinson of Jefferson. His remains, identified through a DNA match in March, will be buried with full military honors on Wednesday, May 25, in Waukesha.
The heavy-lift cargo plane — affectionately nicknamed "Old Shaky" because of the racket from its big piston engines — was heading from McChord Air Force Base in Tacoma, Wash., to Joint Air Force Base Elmendorf-Richardson in Anchorage and had passed Middleton Island in the Gulf of Alaska south of Prince William Sound when it disappeared with its 41 passengers and 11-member crew.
With giant bay doors under its nose, the Globemaster was the largest cargo plane in the American airfleet back then, the sole aircraft able to transport a tank, bulldozer or 200 soldiers. On this flight, it carried 52 men, mostly Air Force and Army personnel and at least one from the Marine Corps and one from the Navy.
Historians have said that the weather was inclement and the crew was flying blind. As it traveled above the Chugach Mountains, only minutes away from its destination and apparently avoiding many peaks, the massive airplane suffered a malfunction and began losing altitude.
At about 4 p.m., the captain of a Northwest Orient Airlines passenger plane picked up a distress call. He reportedly deciphered a scratchy radio signal over his headset that said, "As long as we have to land, we might as well land here."
The airplane then struck the mountain.
A member of the Fairbanks Civil Air Patrol and a member of the 10th Air Rescue Squadron, according to an Associated Press report from 1952, first identified the wreck six days later.
After returning from the site, the civil air patrol lieutenant — then-University of Alaska President Terris Moore — told reporters that the plane "obviously was flying at full speed" when it struck Mount Gannett, the elevation of which is 9,100 feet. The airplane appeared to have slid down the cliffs and exploded, throwing wreckage across several acres.
At the time, the tail was intact enough for identification. However, the wreck quickly sank deeper into the glacier, and by the time a rescue team was able to hike there, there was no trace of it.
The Alaska News reported in 2012 that Douglas Beckstead, historian for the 673rd Air Base Wing at Joint Base Elmendorf-Richardson, reviewed copies of the official reports on the incident.  ~By Christine Spangler
To read more: http://www.dailyunion.com/news/article_41afd06a-20f3-11e6-aa4c-ab7e37155c92.html?mode=jqm